Urbini Omni Plus Travel System Review
The Urbini Omni Plus 3-in-1 is about as cheap as you can get for a stroller - and you get what you pay for. The stroller leaves a lot to be desired in terms of the wheels, maneuverability, and storage space. We recommend looking at other travel system strollers if you're not buying a low-cost stroller as a back-up.
What We Like
Price is one of the lowest you'll find in a travel system stroller
Stroller and car seat combo makes travel more simple
Large canopy keeps more sunlight out of your baby's eyes
What Could Be Better
Plastic wheels make for a rough and challenging ride for parent and child
Storage space is limited and doesn't include a parent console
May experience difficulty in connecting car seat to the stroller
Last Updated on December 22, 2020
Urbini Omni Plus 3-in-1 Travel System stroller and car seat combo would have met all our needs — except for the fact that you get what you pay for when it comes to this stroller.
When you just compare the features, it may seem similar to our pick for the best travel system stroller, the Graco Modes Travel System, the Graco FastAction Fold which is in a similar price range, or even the higher end Baby Jogger City Select. However, this Urbini stroller is not even in the same ballpark when it comes to quality.
We'll get into why these other strollers are a better pick and why we do not recommend the Urbini Omni Plus for most families. The main exception is if you're just looking for the cheapest travel system stroller out there or just want a back-up stroller you can toss in the car.
Things to Consider Before Buying a Travel System
Having a car seat and stroller combo is essential to ensuring compatibility and not having to worry about the gear not connecting correctly as if purchased separately. Babies and children can be moved smoothly from car seats to the stroller without taking them out, which is especially useful to transport sleeping babies without waking them.
The Urbini Omni Plus Travel System is ideal for cost-conscious parents who are continually moving children from house to stroller to car on a daily basis. It's a childcare accessory that benefits those from all walks of life, whether they use public transportation or have personal vehicles.
Before purchasing this product, you should decide whether or not an all-in-one solution is best for them. While it's nice to move the baby around without the worry of adapters, make sure the stroller has all the features that you want. You may also lose some personalization and preference options when you purchase an all-in-one set.
Urbini Stroller Review: Omni Plus Travel System
The Urbini Omni Plus offers six modes of transportation in one product. It's an all-in-one modular stroller that seeks to streamline the process of toting babies along by creating an integrated product.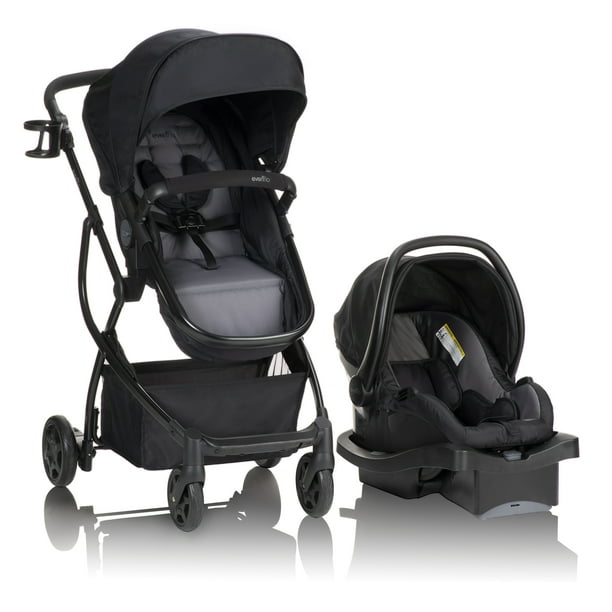 It includes the lightweight Infant Car Seat, designed to easily-install into cars and seamlessly connect to the lightweight stroller frame.
For its part, the stroller offers a multi-position reclining seat, forward and back facing options, a 5-point harness with comfort pads, in addition to a storage basket, canopy, adjustable handle, and cup holder. Additionally, it can convert from a stroller to carriage to bassinet, and then back again.
This stroller is ideal for those who prioritize ease and convenience with a system that features everything they need. It offers an all-in-one solution that provides moms, dads, and babies with a seamless transition from car to stroller and back. This is especially helpful when you have to carry a baby who's been fighting sleep in the car for a quick drive around the block back into the house.
WHAT WE

LOVE
Converts to a bassinet if you have an infant
Large canopy with a peek-a-boo window
Reversible stroller seat
Car seat holds babies up to 50 lbs.
Energy-absorbing foam surrounds your baby
Removable preemie insert in the car seat
WHAT COULD

BE BETTER
Cheap and wobbly tires
Difficult to steer due to the plastic wheels
Challenging to clip the car seat in
Doesn't always fold up fully or correctly
Insufficient storage space with no parent console
Urbini Stroller Features & Benefits
Folding, Weight, and Portability
With assembled dimensions coming in at 34.84 in. long by 26.38 in. wide by 44.09 inches tall and a total weight of 36.6 lbs., the Urbini Omni comes with about average measurements compared against other strollers.
The Urbini car seats, when rear-facing, can hold babies from 4 to 35 lbs. and up to 32 in. tall. The stroller, on the other hand, can hold a child's weight up to 50 lbs. Finally, it features 6 3/8 in. rear and 5 5/8 in. front EVA wheels.
Storage
The only storage space on the Urbini stroller is the basket that sits under the carriage. Likely to save on cost, it doesn't come with a parent console many parents need to hold a phone, pacifiers, or other essentials. However, it does feature a single cup holder on the handle for parents who want to stay hydrated on-the-go, but don't want to purchase any extra accessories.
Sun Shade & Protection
The Urbini Omni 3-in-1 features a UV 50+, two-position sun canopy in terms of sunshade and protection, including a plastic peek-a-boo window.
Additionally, it has a weather shield that helps protect against strong winds, which is incredibly convenient if you happen to find yourself caught in a sudden onslaught of bad weather or if your fussy baby needs some outdoor time in less-than-ideal conditions.
Wheels & Maneuverability
It features two rear wheels and two front wheels, although I'd stay away from rocky or uneven terrain with the cheaper wheels. The steering can also be tighter than other models, which makes it difficult to change directions.
Car Seat Compatibility
The beauty of this stroller, car seat, and base combo is you don't have to worry about purchasing additional pieces or stress about compatibility issues — it provides everything you'll need. No extra adapters or other accessories to make the car seat attach, it's all included with one purchase.
However, the car seat is only made for infants, so it'll likely only get you to the child's first birthday.
Seat Function
The Urbini Omni includes various seat positioning options, which is ideal for helping you find the position that works best for them and their baby. It includes a multi-position, tilt-reclining seat, 5-point harness with comfort pads, reversible stroller seat, and contoured body support with a removable preemie insert.
Additionally, it is convertible from a stroller into a carriage and even a bassinet, perfect for those who seek a multifunctional product.
Setup & Ease of Use
The setup is relatively straightforward — all the pieces lock together and come apart just as quickly. In terms of use, it's tailored to make the experience as comfortable as possible for you, with an adjustable handle and convenient cup holder. When fully assembled, it comes in on the heavier side at 36.6 lbs.
Why We Would Not Recommend the Urbini Omni Plus Stroller
Let's start with the manufactured plastic or EVA wheels – they just don't work well on a full-size stroller. They're fine on an umbrella stroller, but it makes turning and generally using the stroller an incredibly challenging task.
The ride can also be rather rough and bumpy due to the lack of a robust suspension system. We would like to have seen more focus on comfort for the baby, but this stroller will not feel like you're pushing the stroller on a cloud – for either your baby or you.
Not as big of a deal-breaker for a stroller in this price range, but the storage on the stroller is extremely limited. The lack of an included parent console means you'll need to spend more to purchase a separate universal parent console.
Alternative Travel System Strollers for Your Baby
While the Urbini Omni is a good budget-conscious travel system, we understand that it may not appeal to everybody for the reasons mentioned above. So, we've created brief reviews and listed some other options that we love which might better suit your family's needs.
This is our recommended best travel system stroller for most families. The Grace Modes is a 3-in-1 stroller that can be used as an infant stroller, toddler stroller, or as a separate infant car seat.
It comes with the Graco Snug Ride Snug Lock 35 which is one of the top rated infant car seats out there. The car seat can be used with infants that are between 4-35 pounds or up to 32 inches tall.
Price is about average for most travel strollers
Car seat holds up to 35 pounds and stroller is perfect for toddlers up to 50 pounds
One of the most popular and highly rated car seats
Easy to use one hand folding for parents on the go
Includes parent tray along with removable child's tray and armrests
The Graco Modes is a fantastic 3-in-1 stroller that is designed to grow with your child from newborn to toddler.
This is the best convertible stroller designed for families with more than one baby, as it transforms into a double stroller, a triple stroller with a glider, and a travel system. If you're considering another child in the future, this is a great investment.
It starts as a double and features over 16 riding combinations, which provides a personalization level no other strollers on this list can. It also features quality all-terrain wheels and a telescoping handlebar with a hand-operated parking brake.
One of the more expensive strollers
Holds up to 45 lbs
Requires an adapter to turn into a travel system for car seats
8 in. lightweight front tires and 12 in. forever-air rear tires
Great for families with more than one child
The Baby Jogger City Select is designed for parents who aren't afraid to invest a little more money into a product that can grow with their family, in addition to providing some extra comfortable perks.
Famous for its fast-fold feature, Graco's travel system can support your child up to 50 lbs. All systems come with a base and feature seats with multiple incline levels to provide maximum comfort for babies and toddlers.
It includes swiveling front wheels and an extra-large basket, typical features of all the strollers included on this list.
Lightweight and portable
Easily maneuvered
Easy in, easy out of cars
Convertible 3- and 5-point harness
As a more budget-friendly stroller, the Graco FastAction Fold Travel System is for families seeking the convenience of a high-quality travel system without spending too much of their money to do so.
Perhaps the coolest feature of Britax's system is that it features an integrated parking brake, one of those convenient little pieces to have that you wouldn't usually think of.
It features all-wheel suspension and a "click and go" system that allows for easy transfer from car seat to stroller to house, in addition to multiple recline positions. It also features an extra-large storage compartment, which slightly edges out that of the Urbini.
Much more expensive than Urbini Omni Plus
One hand quick fold feature
Auto level indicators
Spring-inclined assist
Those interested in a more refined, sleeker-looking stroller should check out Britax's travel system.
Conclusion
The Urbini Omni Plus 3-in-1 Travel System is low cost and designed for parents with more than one child who are seeking more convenience and ease throughout their day. The system provides smooth transitions from car to stroller to the house. 
It includes storage for the bare necessities a child will need (and extra perks that parents like, such as easy-access cupholders and an adjustable handlebar). If you're looking for a cheap stroller that provides plenty of convenience, the Urbini Omni Plus is the solution for you and your family.
However, there are better quality strollers out there in a similar price range like the Graco FastAction Fold Travel System. If you're willing to spend a little more, we highly recommend the Graco Modes Travel System or the Baby Jogger City Select if it fits your budget.